2021 Best Agencies to Work For by Insurance Journal
The Rowley Agency is proud to announce that we have received the Insurance Journal's Best Agency to Work For award for the East Region!
This award is based on employee feedback and we are honored to have such loyal and valuable employees at our agency. Our Executive Vice President, Christine Holman, summed up Rowley's culture best: "Respect is such an integral part of our success. We have our employees' respect, and they have ours. It is a team effort all the way around."
Thank you to our employees for nominating us, we wouldn't be the best without each and every one of you.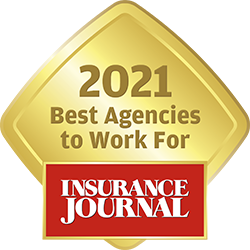 Employees at The Rowley Agency, Inc. filled out the survey to nominate their firm for Insurance Journal's Best Agency to Work For awards, and it won GOLD this year in the East region!
Values such as mutual respect, flexibility, opportunity, and community service were highlighted.
2021 Cappies: Voted Best Insurance Agency
The Rowley Agency is excited and humbled to announce we have been voted #1 Insurance Agency and #3 Best Place to Work in the Capital Area!
Thank you to all who voted for us and a special thanks to all our employees whose dedication and hard work made these awards possible.